Celtic-Linfield Evening Held
On Thursday 29th April, after a gap of 61 years, Belfast Celtic's rivalry with Linfield was renewed for the first time when the Society held an evening of story telling and performance at Windsor Park. The event was arranged through the efforts of the Irish Football Association's Community Relations Department and Michael Boyd of the Irish FA explained that "the evening was an opportunity to celebrate the life of Belfast Celtic and to deal with the issues of the past"

Former players, Jimmy Jones, Jackie Denver, Alex Moore, Gerry Burrell and Jimmy Donnelly were present along with representatives of the Bonnar, Fulton, Tully, Campbell, Scott, O'Connor, Kelly and McKavanagh families. One of the most dramatic highlights of the evening was a 15 minute monologue written by Padraig Coyle and performed by prominent Irish actor Lalor Roddy who played the role of Elisha Scott. This is part of a play that Padraig is presently developing about the life of the former Celtic and Liverpool idol.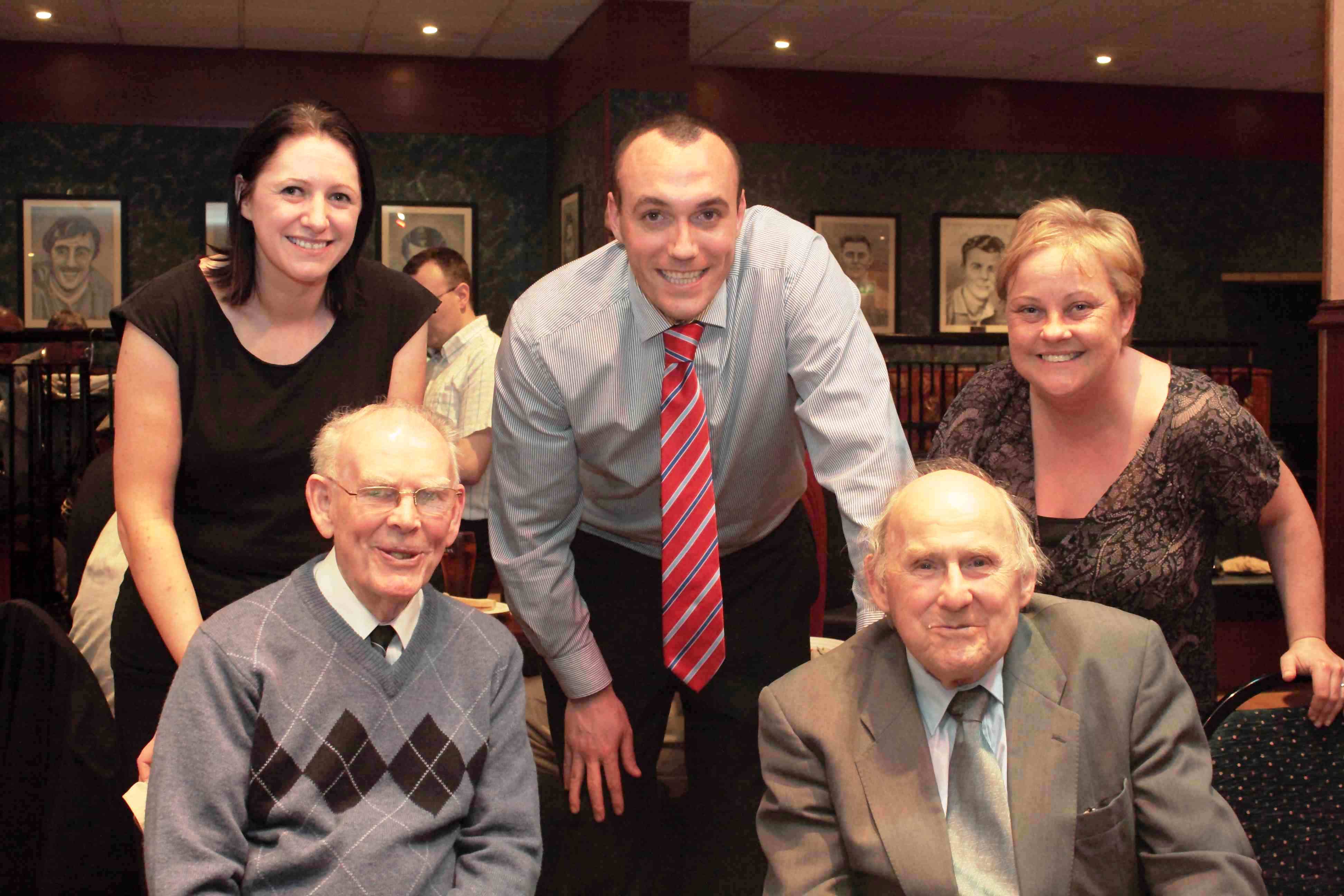 (from left) Maria Wilson, Michael Boyd, Colleen McAuley.
Lexie Moore and Jimmy Jones
The Reverend Dr Johnston McMaster of the Irish School of Ecumenics was the panel chairman and directed questions about the history of the two clubs and the reasoning behind Celtic's departure from the Irish league in 1949.
Linfield chairman Jim Kerr gave a warm welcome to the Belfast Celtic Society and spoke fondly of his memories of watching Jimmy Jones and Jackie Denver as players. Jimmy Donnelly pointed out that the record books show that 124 players had represented both clubs.

Donegal Celtic chairman Raymond Bonnar spoke of the similarities between the respective Celtic club's relationship with the Irish FA. Society Chairperson Padraig Coyle had earlier commented that Belfast Celtic had a history of disputes with the Irish FA including protests that Windsor Park would be given international matches instead of Celtic, and that the club would often go to court or threaten action to seek redress for perceived grievances.
Raymond Bonner pointed out how Donegal Celtic has also had various run ins with the Irish FA in recent seasons. He also stated that Donegal Celtic and Linfield have formed close ties. Former Linfield player PaulMcAreavey expressed his delight at being part of the historic evening. He spoke of his Celtic roots in West Belfast and of how much he had enjoyed his playing career at Windsor Park. He paid tribute to the courtesy and respect that he and other players from his community had received from the club and, in particular, mentioned the great working relationship with Linfield manager David Jeffrey.

The Irish FA chief executive Patrick Nelson had hoped to be present, but was unable to attend because of a change in the date of the event. Mr Nelson issued the following statement on behalf of the Irish FA:

Unfortunately I cannot be with you tonight for what I am sure will be a very enjoyable and interesting evening of reflection to celebrate the Belfast Celtic story. I would like to thank Linfield Football Club for their support tonight, hosting and participating in this evening's event.

The motivation for tonight is to celebrate the Belfast Celtic story, share memories and feelings surrounding these two great football teams. The Irish Football Association is keen to learn from the Belfast Celtic story.

We also fully acknowledge the great loss to football since the demise of the Belfast Celtic football team. Tonight is about celebrating the friendships which football can create, acknowledge the wonderful contribution Belfast Celtic and Linfield have made to football in this part of the world; and looking to the future to build on the creative ideas which are sure to flow from the conversations tonight. I wish you all a great evening.


Lexie Moore and Richie Kelly

y

Singer songwriter Gary Maxwell finished off the evening with a rendition of his song 'Elisha'. Following the positive response to this event, there are plans to stage another Belfast Celtic – Linfield evening in the autumn