Lawlor an Irish Great - Irish Times May 19th 1998
The death has taken place in London of Joseph "Robin" Lawlor (sic), an outstanding soccer full back in the 1950s who won aclaim on both sides of the Irish border.
A Dubliner, he started his senior career with Drumcondra, and together with Con Martin and John "Kit" Lawlor - no relation - he was in the team which beat Shamrock Rovers in one of the most famous FAI Cup finals in 1946.
Later he aligned himself with Belfast Celtic, with whom he won Irish Cup and championship honours. His most memorable achievement with the Belfast club, however, was to share in the 2-0 win over a full Scotland team, who were then on an American tour, in New York.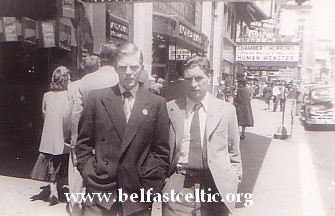 Robin Lawler (left) and George Hazlett in NY 1949
Subsequently, he moved to Fulham and played in a gifted team which included the fine England inside forward Jolinny Haynes.
A thoughtful, composed player who didn't always fit the concept of the full backs of his era, Lawlor had another gift which endeared him to the fans. A full generation before Mick McCarthy arrived on the scene, he was known as the master of the long throw-in.
He won the first of his eight Republic of Ireland caps on the day that Jackie Carey made his last international appearance and caught the eye in a 4-0 win over Austria at Dalymount Park in March, 1953.
He would later share in victories over Norway (twice), Luxembourg and Holland, but dropped out of favour, to be replaced by Noel Cantwell, after the 4-1 defeat by Yugostavia in Dalymount Park in 1955 - a game made memorable by the edict of the former Archbishop of Dublin, Dr John Charles McQuaid directing Catholics not to attend the fixture.
Peter Byrne
---
More on Robin Lawler from "Paradise Lost and Found" by Padraig Coyle.
You can read Peter Carberry's review of this book here or order the book her.
Joseph "Robin" Lawler played at wing-half for Belfast Celtic following his transfer from Dublin club, Drumcondra, in 1945. He was totally committed to the game and opposing defences greatly feared his ability to throw in the ball from long distances.

"A throw-in from Robin was like receiving a free kick or a corner kick. His arms were like windmills" remembers Harry Walker.
Lawler first came north as an 18-year-old in 1943 when he signed for Distillery and stayed for a season and a half. He received hate mail prior to Belfast Celtic's Boxing Day game against Linfield in 1948. "Robin was in such a state that day that I asked Elisha Scott not to play him. Robin was even trembling before he went out on to the field and I think the match was a nightmare for him until it finished" recalled Walker.